The 2D petroleum system basin modeling and exploration risk assessment of Pará-Maranhão basin in the Brazilian Equatorial Margin, which will be on offer in the upcoming 17th Bidding Round, allowed the reconstruction and characterization of three active petroleum systems present in the area. The integration of its elements and processes revealed very complex oil migration processes, with oil mixing from three different source rock systems that overlap. In addition, the data indicates a complex mixed-oil accumulation system that presents a new way of looking at the petroleum system, suggesting the presence of multiple sources, or at least a wide range of maturity of the fluid charges (same source but different pods) that have reached the reservoirs in the area.
 
The study details all aspects of the thermal evolution of the source rocks and oils, trap formation, oil and gas accumulation and preservation, lead and prospect mapping (with their volumetrics) making it a critical tool in lowering the exploration drilling risk in the unexplored deep waters.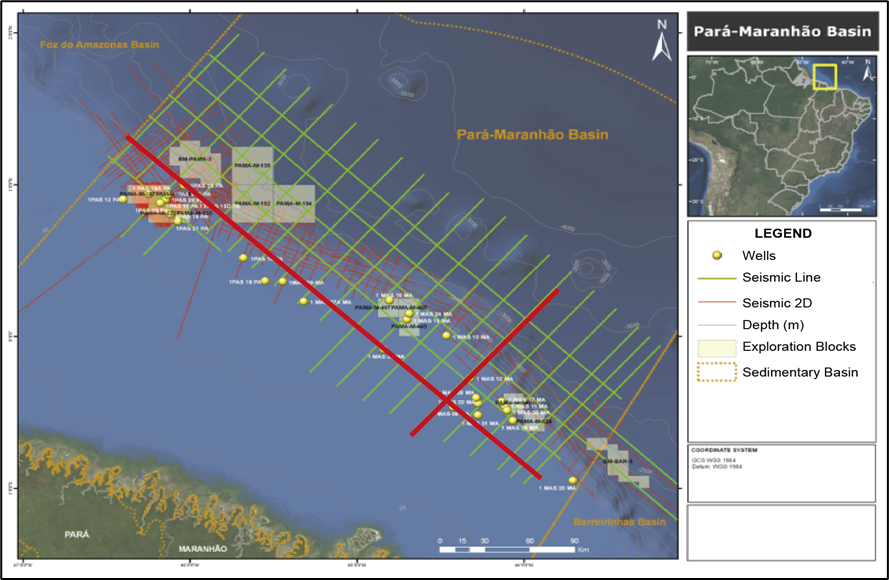 Among others, the deliverables of the Multi-Client 2D Petroleum System Modeling of the Equatorial Margin Project include: 
Mapped seismic surfaces in depth and time of eight stratigraphic layers.
Digital model provided in Petromod format.
Gridded surface in depth.
Conceptual model including a spatial distribution of source rocks, reservoirs, traps and seals.
Reservoir and source rock facies distributions.
Source rock families and characteristics.
Spatial (vertical and horizontal) distribution, quality and maturity of the source rock systems.
Kinetic reactions used.
High resolution and advanced geochemical analyses of oils, gases and source rock organic extracts.
Oil & source rock correlation and identification and characterization of oil and source rock systems.
Assessment of hydrocarbon migration over geological time.
Time of hydrocarbon charge.
Risk assessment for defined structural and stratigraphic plays and leads.
Maps of main reservoir layers, oil and gas quality and volumes, including mass balance for the entire model.
Hydrocarbon generation, expulsion, oil and gas accumulated volumes, AVOs and DHIs identification, among other products.
Don't miss out! Get in touch with our sales team to find out more about pricing and payment options!