In contrast to oil geochemistry, gas geochemistry has been relegated as a second-class petroleum system methodology for many years. But recently it has started to gain importance due to the increased pressure to shift the energy matrix to a cleaner hydrocarbon component.
BPS has developed and applied gas geochemistry as a critical tool in the petroleum system concept for the last 20 years for exploration, production and environmental analysis with great success. Below we highlight several examples of the application of gas technologies that have the power to revolutionize our understanding of entire oil and gas systems of sedimentary basins using only gas data.
The philosophy of gas geochemistry is to understand the physicochemical processes that occur in a gas system instead of using gas fingerprinting and stable gas isotope values. This approach has allowed geochemists to achieve previously unimagined gas to oil exploration success using only gas proportion and carbon, hydrogen, H2S and CO2 stable isotopes.
In recent years, gas geochemistry has become an essential part of the petroleum exploration and drilling processes, not only involving hydrocarbons, but also non-hydrocarbon gases such as CO2 and H2S, among others. Gas composition, gas ratios, stable gas isotopes and PCA statistical technology have proven imperative to understanding gas origin (cf. biogenic/ thermogenic/ mantle) from primary cracking of kerogen and NSO compounds, secondary cracking of oil, secondary cracking of gas, and finally, secondary cracking of dry gas. Another important data is the example using synthetic PCA analyses such as V1 (maturity) and V2 (migration) parameters. The PCA plot can differentiate short from long-distance vertical and horizontal oil and gas migration.

The development of advanced technologies including gas collection systems during drilling using ISOTUBES, along with high-resolution gas chromatography and Isotope Ratio Mass Spectrometer (GC-IRMS), allows the assessment and quantification of gas composition and gas isotopes with reproducible high-precision and high-quality data that provides critical information for the evaluation of gas and oil potential (e.g., origin, concentration, thermal maturity, cracking, segregation, migration pathway/distance and direction, among others), production allocation, reservoir compartmentalization, and even environmental studies and monitoring. When integrated with 3D basin modeling, this data provides a unique method for evaluating the charge component of the petroleum system concept.

The ISOTUBE technology developed by ISOTECH allows for the automation of gas sampling during drilling as well as long-term preservation during transportation and storage, guaranteeing the accuracy and reproducibility of the data using high-resolution gas chromatography along with Isotope Ratio Mass Spectrometer (GC-IRMS; Figure 1).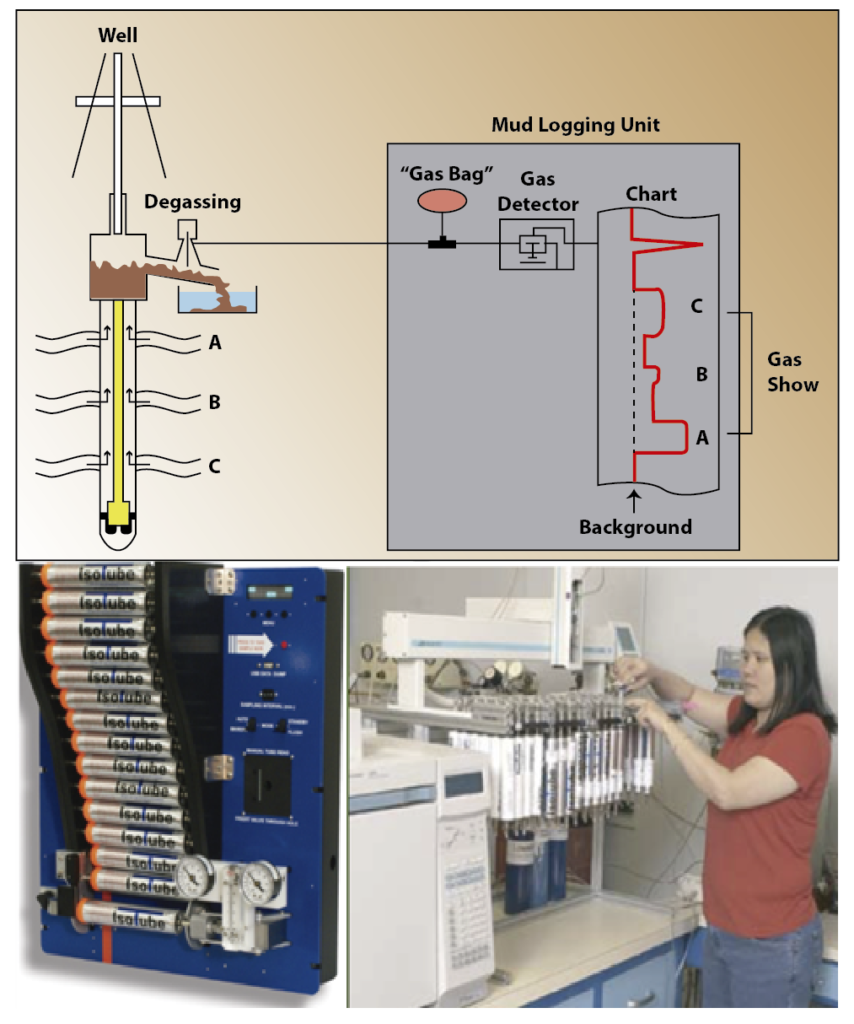 Products and Examples of Application
Some of the most important problems to be solved by gas technology in complex petroliferous basins are gas origin (cf. thermogenic/biogenic, gas associated versus non-associated and gas mixing); thermal maturity (cf. gas cracking from kerogen, from oil or gas to gas cracking); gas and oil reservoir compartmentalization (cf. flooding and oil vs. water contact), hydrocarbon and non-hydrocarbon gases from deep sources and migration pathways, including short vs. long distance migration. Below we show some of the most important applications of gas geochemistry in oil and gas exploration.
Gas Origin
As mentioned above, gas data is no longer simple fingerprinting or carbon isotope values, but a powerful tracer of geological processes. Below we describe gas diagrams using gas samples from the onshore Espírito Santo Basin.
Several gas samples from onshore Espírito Santo were analyzed and plotted in a series of gas composition and carbon isotope diagrams (Prinzhoffer et al., 2000).  The plot diagram in Figure 2 illustrates gas origin diagrams involving C2/C3 versus C2/ IC4 and C2/C1 versus δ13C1 (methane), respectively. The gases were collected from onshore fields in the Espírito Santo Basin, Brazil.

As can be observed, the results from the gases plotted in the C2/C3 vs. C2/ IC4 diagram suggest gases free on any biodegradation, showing non-significative thermal evolution differences. On the other hand, the plot of C2 (Ethane)/C1 (Methane) vs. δ13C1 suggests that the data clearly distinguishes gases recovered from shallower versus deeper reservoirs. As can be observed, the data suggests that the gases recovered from the shallower reservoirs are biogenic and a mixture of biogenic and thermogenic origins (e.g., low C2/C1 and δ13C1 lighter than -50%o). On the other hand, the deeper gases show higher C2/C1 ratios and heavier δ13C1, indicating a thermogenic origin composed of associated gas (wet gases with δ13C1 heavier than -40%o). As can be noted, the gases recovered from reservoirs deeper than 1000m are dominantly thermogenic, while also showing some gases with biogenic contribution.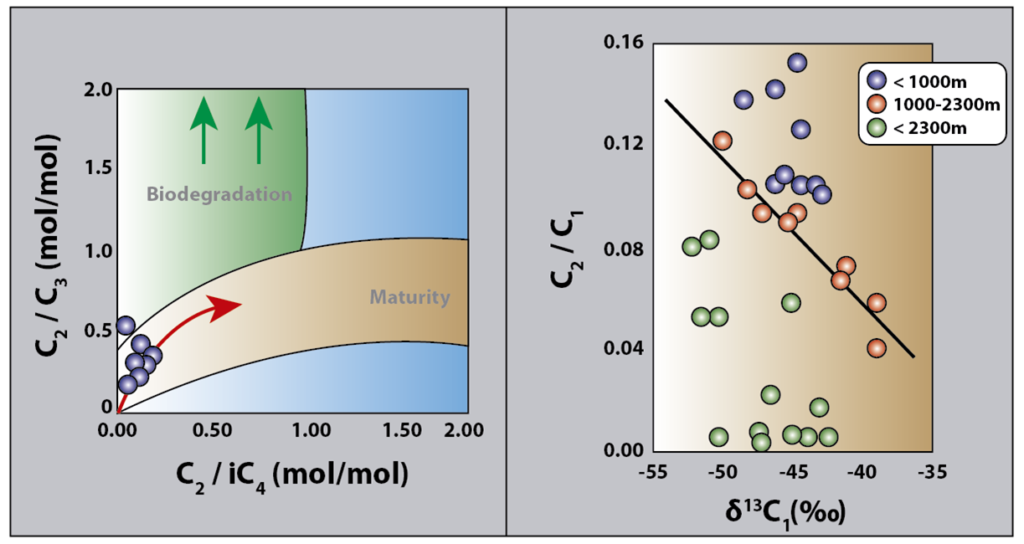 Gas Thermal Maturity and Cracking
Regarding thermal evolution and cracking, the results of plotting carbon isotopes of δ13C2-δ13C3 versus concentration of C2/C3 (Fig. 3) indicate that all the gases are wet, associated with an oil window stage of thermal evolution and generated from primary cracking of the kerogen. No secondary cracking of oil or gas was observed. Therefore, the results suggest that those gases were associated with an oil prone petroleum system, probably the pre-salt Upper Barremian/Aptian Cricaré/Mucuri formations.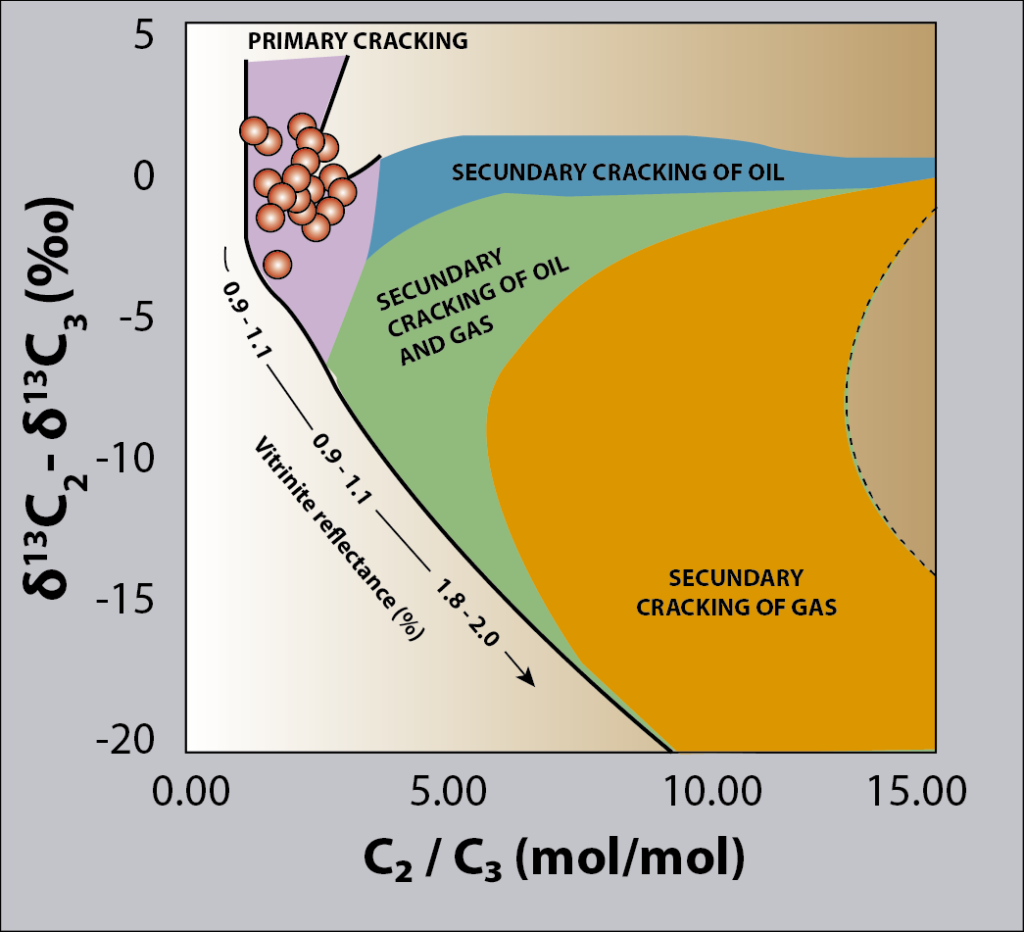 Statistical Multivariable Approach and Its Applications
Prinzhoffer (2000) proposed that light hydrocarbons in conventional gas accumulations dissolve in pore water and diffuse (and fractionate) as dissolved species through seals. The gas exsolved in the seal can then migrate horizontally or vertically over short or long distances through sandstone or carbonate carrier beds to form other oil and gas accumulations. Using this principle, a novel technology was applied in several basins in Brazil with the objective of better understanding the gas migration history using the gas geochemical characteristics.
 
The map of the Espírito Santo Basin depicted in Figure 4 shows the position where gas samples were collected from oil and gas fields located in the Lagoa Parda and Regência canyons and the São Mateus Platform, considered to be very important geological features that control most of the onshore oil and wet gas accumulations in the basin. As can be observed in the plot from Figure 5, the two turbidite fields (Paleocanyon of Regência and Fazenda Cedro) exhibit a gradient of maturity with negligible migration effect. In contrast, the Northern platform samples from the Sao Mateus fields show both maturity and migration fractionations. This corroborates the petroleum system knowledge of the basin, suggesting that the hydrocarbons sourced from the pre-salt Upper Barremian/Aptian Cricaré/Mucuri formation source rocks have charged the turbidite reservoirs pooled in the Lagoa Parda and Regência canyons. The migration pathway involves gas charged, with short lateral migration, by deep lacustrine source-rock pods located in the salt-ramp/deep basin domains through a NW-SW transform fault system that reaches the disconformity between the source rocks and the paleocanyon systems. In contrast, the generation pod for the Northeastern São Mateus Platform fields is suggested to occur far offshore in the eastern part of the basin, probably below the Abrolhos complex, and is assumed to have charged all the offshore and onshore oils in the São Mateus and Rio Itaúnas areas. The data indicates a long lateral migration pathway through the Aptian sandstone carrier beds bellow the Rio Itaúnas evaporitic beds.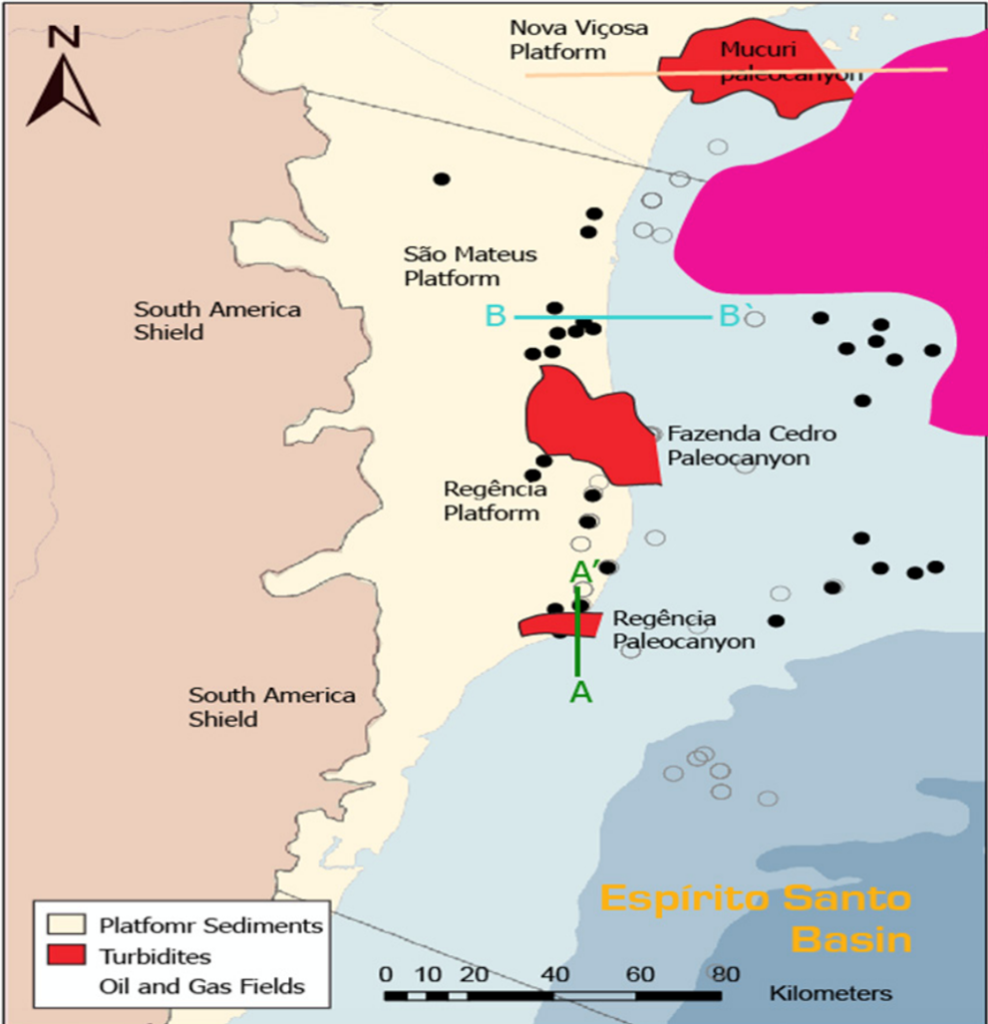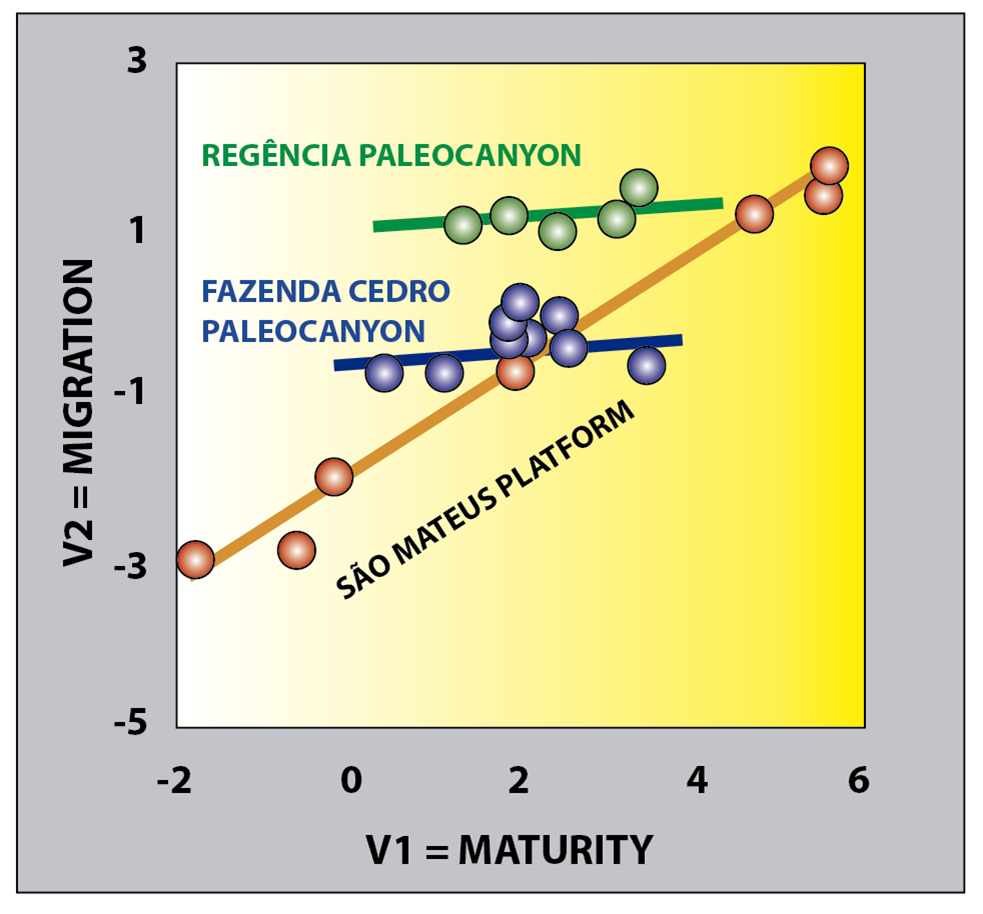 The plot in Figure 6 illustrates a gas cracking diagram distinguishing gas recovered from the post-salt and pre-salt reservoirs of the Espírito Santo Basin. The δ13C2-δ13C3 versus concentration of C2/C3 gas data plot obtained from the onshore and offshore Espírito Santo Basin suggests that the gases recovered from post-salt turbidity reservoirs from the Urucutuca Formation were generated by primary cracking of kerogen. In contrast, the oil and gases recovered from the pre-salt fluvio-deltaic reservoirs of the Barremian Mariricu Formation, in the Sao Mateus Field, were sourced from secondary cracking of oil and gas. This data is critical to understanding the "drill deeper" concept in the basin.
 
In summary, for the salt ramp domain of the Espírito Santo Basin,  the gas data suggests an oil prone petroleum system. In contrast, the salt ramp/deep basin domain in the Northern areas, where a very high thermal burial event caused secondary oil cracking, is suggested to be a gas/condensate prone area. These conclusions support the petroleum system knowledge and 3D modeling performed by BPS in the Espírito Santo Basin, opening up the potential to bust the hydrocarbon petroleum potential in onshore Espírito Santo Basin wide open.