TGS CEO Kristian Johansen and BPS Exploration and Production Director Sidnei Rostirolla. Photo: Renato Wrobel.
Last Tuesday (21), we had the pleasure of hosting more than 60 industry leaders from various oil majors at our offices in Copacabana to present our all-new 3D Petroleum Systems Modeling and Resource Assessment Study of the Deep and Ultra-Deep Waters of the Sergipe-Alagoas Basin.
The basin's stratigraphic and structural framework was defined through the interpretation of TGS's latest 2D PSTM and PSDM seismic data, acquired in 2014 in a 10 km X 10 km grid with a 10 km streamer (Fig. 1). The data includes the recent deep-water oil discoveries and covers the largely unexplored deep portion of Alagoas, where several plays present good exploration opportunities.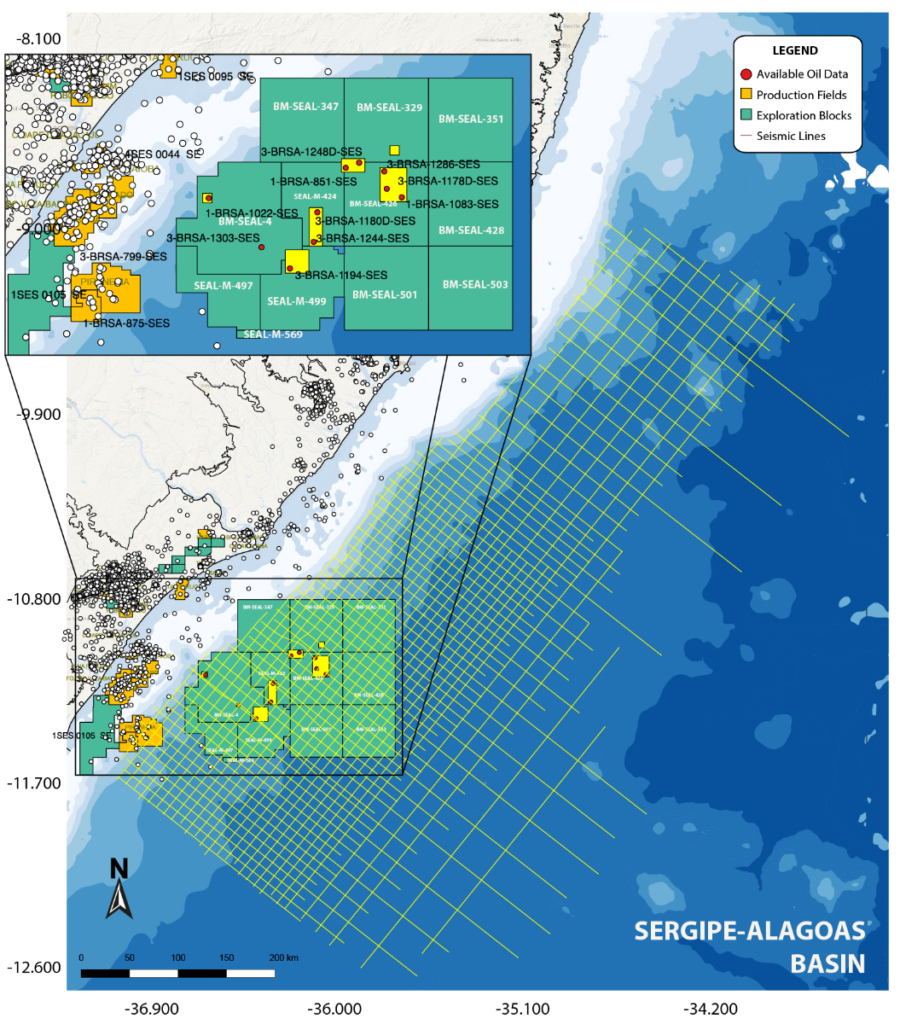 The complex geological environments of Sergipe-Alagoas were interpreted through the detailed seismic mapping of 10 key horizons and their associated fault systems and were calibrated with advanced geochemical results obtained from extracts and rock samples in order to correctly distribute their properties along the 3D basin models and address the complex oil mixing questions surrounding Sergipe-Alagoas (Fig. 2).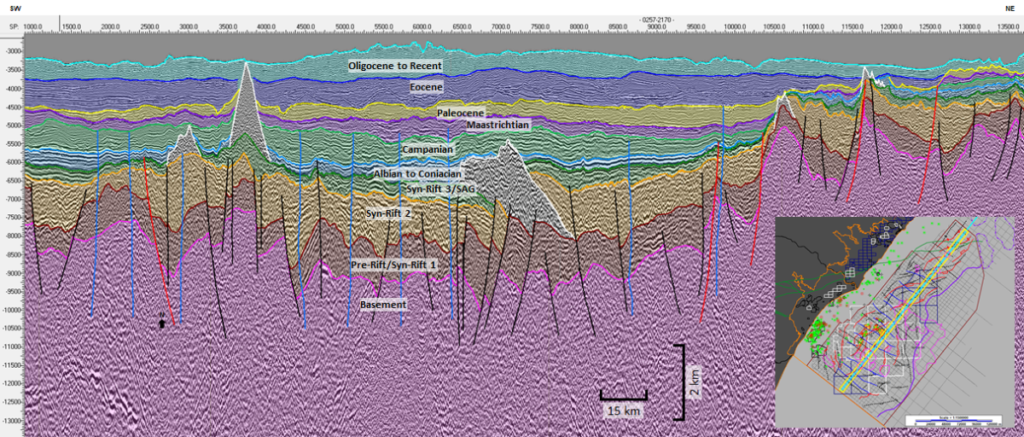 More than 60 exploration leads were identified in the course of the 2D seismic volume interpretation and then integrated with the PSM, including the analysis of the geometry and integrity of their traps and seals. The reservoir quality and volumetric parameters were supported by log petrophysics data in combination with available MDT and DST data. MDT fluid data and pressure analysis were used for the identification of geopressure conditions, fluid type and formation factor values.
The data was used to derive stochastic volumes for all identified exploration leads, including risk analysis of individual opportunities and plays. Fluid expectations and amounts of oil and gas for each of the leads were cross-checked with the PSM and advanced geochemistry results, leading to a remarkable prediction of the potential oil and gas accumulations. The inventory includes tens of leads mapped in the rift and post-rift section, using seismic anomalies, possibility of reservoir existence, charge conditions and retention criteria (Fig. 3).