Environmental activism related to the petroleum industry in Brazil is consistently growing stronger, making it more important than ever to operate in harmony with the environment and society. Contrary to what some might think, Brazil has stringent and prescriptive regulation for sectors with the potential to generate adverse impacts on the environment.
 
Brazilian environmental law can lead to administrative, criminal and civil processes, with the potential for criminal prosecution. Offenders may face severe fines and even jail time. As such, operating in compliance with Brazil's extensive, and often times confusing, environmental regulations is of the utmost importance to the sustainability of E&P operations in the country. More often than not, environmental regulatory permitting is among the top ranked non-technical risks in E&P projects.
 
With this in mind, BPS has put together a team of leading environmental specialists with extensive experience in Brazil's E&P industry, offering onshore and offshore environmental services regarding soil, water and sea floor monitoring, as well as oil spill monitoring and response plans of the highest quality and efficiency. Our long-standing relationships with federal and state environmental agencies can also help anticipate key issues in the environmental permitting process in order to minimize lead time and move on to field work as quickly as possible.
 
The BPS environmental database covers the vast majority of the Brazilian offshore and onshore basins, including the most up-to-date chemical, geochemical, biological and geophysical data, with air, water, residue and oil analyses.
 
Our team of specialists, along with our partners at outstanding environmental laboratories such as Eurofins (Brazil) and Biomarker Technology (US), as well as leading environmental companies like Geospatial Petroleum and Inspire Environmental, allows us to offer a full package of environmental services covering: the environmental permitting process, environmental terms of reference, field data collection, interpretation of environmental data and environmental baseline, monitoring and auditing.
BPS is working together with Inspire Environmental and EMK Environmental Services to offer a new revolutionary technology called "Sediment Profile Imaging" (SPI), aiming to revolutionize sea floor monitoring in the deep and ultra-deep waters of the Brazilian offshore basins. In addition, our partnership with Geospatial Petroleum allows us to offer real-time oil spill identification, monitoring, response and mitigation plans of the highest quality and efficiency. 
SEDIMENT PROFILE IMAGING (SPI)
The SPI technology is a valuable tool to record environmental baseline conditions previous to drilling activities. It also has unparalleled capacity to visually show the effects of the drilling discharges on the sediment and benthic communities and their recovery following the initial effects caused by the discharge.
The configuration of the SPI system was developed for handheld use from a ship or ROV (Fig. 1). The system has been successfully used at water-depths ranging from 4m to 4,000 m, under any seabed conditions. The technology features:
Instantly available digital SPI images in the field (24.1 megapixel DX-Format CMOS Sensor, 4000 x 6000 pixels, viewable area of seabed 21.6 cm by 15.2 cm).
Plan View camera (24.1 megapixel DX-Format CMOS Sensor 4000 x 6000 pixels) equipped with bottom contact switch, acquires seafloor surface image just prior to SPI image capture.
System disassembles and is boxed for shipment via air or sea freight to any global location.
No termination, special coaxial cable or slip-ring enabled winch required; all sensors are battery-operated and internally recording.
Easily deployed from vessels of opportunity (requires only a winch with sufficient wire/synthetic rope to handle water depth and weight of equipment).
Time-lapse capability available in all systems.
SPI image quality is never affected by water turbidity; clear, high-resolution images always obtained.
Additional sensors such as CTD, methane or USBL easily integrated into the system
SPI system configurable for handheld, diver or ROV use.
Diver Configuration allows data collection under piers/docks/subsea infrastructure or sensitive environments where precise placement is required.

A series of radial transects emanating from the drill site location can also be quickly sampled using SPI technology to identify the spatial extent of the drilling discharge footprint on the bottom and identify the station locations for subsequent sediment grabs and cores for chemical sampling (Fig. 3). The recovery of the benthic community can be documented at these stations affected by drilling muds in subsequent monitoring surveys (Fig. 4). For example, in the ultra-deep water of the Santos Basin, this technology could be used as part of a robust environmental baseline that will support the environmental regulatory permitting process. In addition, post-drilling surveys using the SPI technology generate visual material to demonstrate the actual effects of the drilling activity, as opposed to the perceived impacts that many stakeholders may have.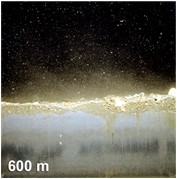 In summary, together with our partners, BPS is able to offer the Brazilian petroleum industry an intelligent solution using cutting-edge technology to perform fast and cost-effective monitoring/collection of visual sea-bottom/sediment information in order to identify the sources of any environmental seabed disturbances.
Using this technology, large areas of seafloor can quickly and efficiently be surveyed with SPI for many monitoring objectives, providing the necessary answers regarding sedimentary samples, sea-floor biota, invertebrates, and even the presence of natural oil seepages or oil spills.

Well, that should give you an idea of the major potential of the application of SEDIMENT PROFILE IMAGING (SPI) in deep and ultradeep-water frontier areas. For those looking to dip a toe in, get in touch to learn more about how to apply this technology to your permitting, baseline and monitoring projects.